Chad Stuemke is an author, researcher, and seeker. His investigations range from searching out the secrets of ancient civilizations and their hidden archaeology to probing the present for answers in regards to U.F.O.'s, stargates, symbolism, spirituality, and humanities greater potentials.
Intentions being that by searching out the keys that have been hidden in the past, we may be able to unlock the gates and doors to our own higher potentials, and future. Chad lives in Northern Michigan with his family and enjoys being inspired by nature in his free time.
Chad has appeared on several nationally acclaimed radio shows and currently gives lectures and walking tours of ancient sacred landscapes and Modern Mystical Cities. His hopes are through his lectures and walking tours people will begin recognizing and utilizing the sacred symbolism that has been hidden in plain sight within our sacred and ancient sites as well as our modern urban centers.
He believes the combinational experience we get from visiting both the ancient and modern sacred sites in the same day is something akin to a time-machine, we're able to look to the past, while feeling in the present, and sometimes even glimpsing the future. This is a true "Gateway" experience.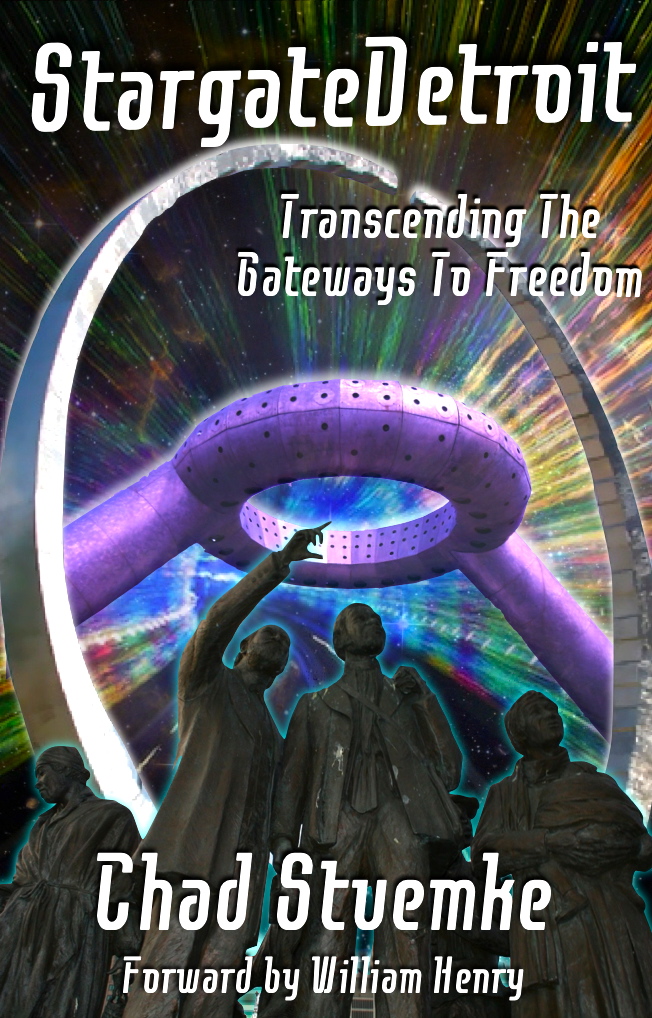 Chad Stuemke's New Book: Stargate Detroit
Detroit has always been a city of transformation and its nicknames have reflected this scenario – Paris of the West, The Motor City, Mo-Town, Murder City, Rock City, The Renaissance City, The 'D', The 3-1-3 and Stargate Detroit.
In 2001 Detroit celebrated its 300th birthday or Tricentennial. The city received several amazing gifts aimed at continuing the renaissance and sprucing up the river front. Many of the gifts contained 'gateway' or 'Stargate' symbolism – including the amazing 'Transcending' gateway sculpture.
In a gorgeous book filled with illustrations, diagrams and original art, noted author, researcher and seeker Chad Stuemke unveils the sacred history, esoteric urban plan and symbolic public art that has been 'hidden in plain site' in the heart of Detroit, Michigan.
181 Pages
Forward by William Henry
Hundreds of Illustrations, Diagrams and Pictures
Hard Coil Bound
Released April, 2011
Zoboz Pulishing
$19.95+4.95 S&H
Currently Sold Out